YM x G.O.D.
In collaboration with the local nostalgic lifestyle brand G.O.D.(Goods of Desire), Young Master presents a special edition Unfiltered Pilsner. Perfect for year-end festive celebrations, get ready to welcome the Year of the Dragon in advance!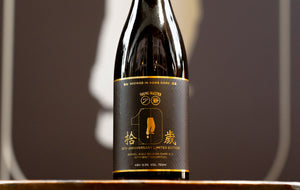 10 Shui
10th Anniversary Beer
10 Shui is a celebration of a decade of unrelenting commitment to fostering a world-class, yet locally rooted drinking culture. This beer is a tribute to the past, a toast to the future and a reminder that the best is yet to come.
Buy Now
Amber's Lychee Wild Ale

A Collaboration with
AMBER & FARMHOUSE PRODUCTIONS
A follow-on to last year's wildly fruitful collaboration, this release is a masterful blend of two-Michelin-starred Amber's culinary artistry, beloved local brewery Young Master's leading mixed fermentation program and local farmers co-op Farmhouse Productions' dedication to regenerative and sustainable farming practices.
Buy Now