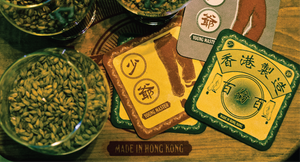 Inspiration for our name, "Young Master" comes from Hong Kong's past. When we first heard the coming of age tale of a "工廠少爺" or a playful "young master" of a factory, set in old Hong Kong, we felt an instant connection. We love that the name embodies both a playful spirit and a strong work ethic. We are located in Ap Lei Chau and Wong Chuk Hang, amidst many other creative endeavors of the South Island Cultural District in our vicinity. We see our brewery in this setting evoking memories of Hong Kong's industrial past in a more creative form, albeit on a smaller scale.
Who is Young Master
Young Master Ales Brewery opened its doors in December 2013 and has since established itself as a leader in the Asian craft beer scene. Right from inception, we have endeavoured to create a world-class, yet locally rooted craft beer culture in Asia. We do this by injecting original thinking, bold flavours and disciplined brewing techniques into our beers.
We are one of Asia's highest rated and most awarded craft brewery and pride ourselves in making a wide range of exciting beer styles – from classics to avant-garde. We fully own and operate two brewing facilities in Hong Kong including our Wong Chuk Hang Brewery, that operates the largest craft beer brewhouse in Hong Kong. Our facilities house Asia's largest wood barrel ageing program and a custom-built oak foeder for our mixed-culture fermentation program.
Over the years, we have also built a distinctive "eco-system" around our celebrated beer program. This comprises best-in-class taprooms and beer festivals facilitating localized, grassroots engagement with the rapidly growing "craft-curious" community of consumers in Asia. We self-distribute our beers, fully cold-chained in Hong Kong, Mainland China and Singapore. In addition, we selectively send our beers to few other markets through distributors who are as fastidious as us. You will also find our team pouring at the geekiest beer events all over the world.
Since Young Master began operations, we have earned the support of the most discerning clients in Hong Kong including iconic hotels like Mandarin Oriental, Four Seasons, Shangri-La and others; prestigious private clubs; craft beer specialist bars and some of the trendiest restaurants and bars in town. Our bottled beers are on sale at specialist stores and upscale supermarkets that carefully curate their lists.